Optimizing Big Data and Technology in Cancer Care: 2019 Research Symposium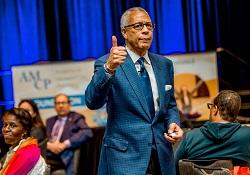 The rapid pace of oncology innovation presents both opportunities and challenges for stakeholders across the health care spectrum. Cancer care will be the focus of this month's AMCP Foundation Research Symposium, which takes place just prior to AMCP Nexus 2019. Symposium attendees will learn from national experts sharing insights on evolving technologies, new treatment decision paradigms, the use of big data, and innovative ways to address affordability in cancer treatment.
2019 Symposium panels include: clinical and shared decision-making; patient concerns around health plan and payers' use of data; innovative approaches for justifying the value of care; and the biopharmaceutical industry's use of health IT and artificial intelligence to advance research, accelerate regulatory approvals and communicate value.
"We are proud to once again present a Symposium that offers attendees not only a look at current best practices around a crucial disease state, but also provides a glimpse into the future," said Paula J. Eichenbrenner, MBA, CAE, Executive Director. "Our lineup of speakers will discuss the swiftly changing state of oncology care from a wide range of perspectives."
Among speakers are:
Donna R. Rivera, PharmD, MSc, Scientific Project Officer, Division of Cancer Control and Population Sciences, National Cancer Institute
Jeff Allen, President & CEO, Friends of Cancer Research
Gwen Darien, three-time cancer survivor and EVP for patient advocacy, National Patient Advocate Foundation
Louis M. Weiner, MD, Director, Georgetown University Lombardi Comprehensive Cancer Center
Tina Moen, SVP, Chief Pharmacy Officer, IBM Watson Health
Joga Gobburu, PhD, MBA, FCP, Pumas-AI, University of Maryland School of Pharmacy
Other organizations invited to present include Cancer Support Community, American Society of Clinical Oncology, and the American Cancer Society.
The event takes place Oct. 29 in National Harbor, Md. Register today for only $200.
Limited registration scholarships are available for patient advocates, researchers, graduate students, new practitioners, residents, fellows, student pharmacists, clinicians, or other health care professionals with an established commitment to placing research in practice. Apply for scholarships by emailing us your name, credentials, organization, title, and describing your interest in the program.
Thank you to our funding partners, Amgen and Merck, for their support of this program.
The annual Symposium has become a leading forum for discussing managed care challenges and opportunities. In 2018, the event addressed the latest opportunities found in our trends in health care environmental monitoring.