Looking for a Crystal Ball? Trends and Disruptors in Health Care
2018 Research Symposium:
Trends in Health Care: Disruptors and Opportunities
Among the certainties in health care is the constant pace of change and its intensity. At this Research Symposium held prior to AMCP Nexus, presenters reviewed numerous factors that have the potential for disruption of health care services, and implications of stakeholder inaction. 
New findings on health care trends were presented, building upon the AMCP Foundation's legacy of research about influences on the practice of pharmacy. Six trends and two global influencers were examined: affordability and value; innovative and curative therapies; optimal health coverage; industry consolidation; population health management; expedited drug approval; social determinants of health; and technology. Additional presentations discussed innovations in health care from physician, patient, health plan and employer perspectives. 
Keynote
Reed V. Tuckson, MD, Managing Director, Tuckson Health Care Connections; Former EVP and Chief of Medical Affairs, UnitedHealth Group and Medical Care on "The Changing Health Care Landscape – Realizing Comprehensive, Multidisciplinary,  and Integrated Health"
Moderator
Kevin B. Sneed, PharmD, Dean, USF College of Pharmacy; Senior Associate Vice President, USF Health
Supporters
Thank you! Pfizer, Inc. provided support for our Trends in Health Care series, as well as this Research Symposium. Additional Symposium funding partners were Genentech and Merck, with Xcenda as research partner.
Payment and delivery go together, and cannot be uncoupled. Simply increasing patient cost-sharing does not equate to patients taking on a consumer role in their own care.
Resources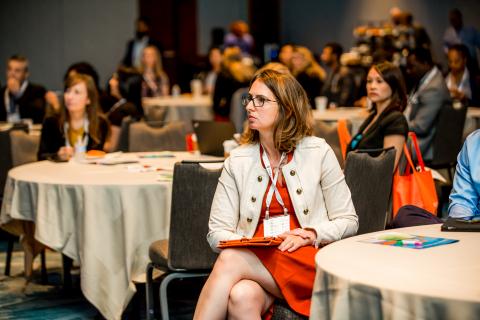 ---
Research about health care trends that place new demands on the practice of pharmacy continues to be an integral element of the Foundation's mission. Initiatives like our Annual Research Symposia advance the collective knowledge about how managed care pharmacy impacts patient outcomes.