Kenneth Garcia: How to Successfully Complete a Residency During a Pandemic
By Kenneth Garcia, PharmD
Clinical Pharmacist, Moda Health
AMCP Foundation welcomed two pharmacist residents, Kenneth Garcia, PharmD, and Mei Huang, PharmD, for a virtual rotation this spring. The rotation is a component of the Postgraduate Year One (PGY1) Managed Care Pharmacy Residency at Premera Blue Cross in Seattle.

One of the most valuable skills that I was able to develop this past year was my ability to embrace and adapt to changing circumstances, from changes in the scheduling of learning experiences to the added challenges of being in the middle of a pandemic. I believe that my past experiences, didactic in an accelerated pharmacy program and most importantly my residency training at Premera Blue Cross, have cumulatively prepared me to succeed in completing my residency program remotely during the pandemic. As a resident in a nationally recognized health plan, I was equipped with various learning experiences throughout the year that challenged me to seek innovation, be flexible with obstacles, and to be adaptable throughout any circumstance. It's not every year one could say they've gone through a pandemic and successfully completed a residency program.
Here's my advice to residents during a pandemic. Plot twist, these takeaways aren't secrets!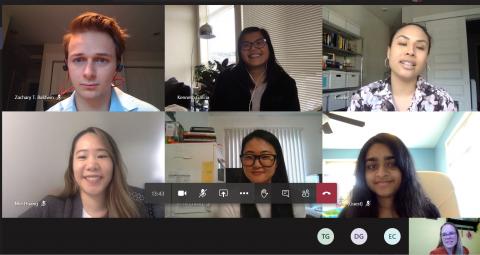 Be Flexible
You may have scheduled learning experiences, projects, and tasks that you had to shift in order to accommodate the changing circumstances around the pandemic. Just like the real world, life happens and you have to be prepared to welcome and adapt to change.
Stay Organized
One of the challenges I faced was how to effectively manage four learning experiences at once from various organizations with multiple email accounts and more than one computer. Needless to say, organization was a huge factor. I had to map out my schedule on a weekly basis, check my calendar daily and plan out each workday at least a day in advance to ensure that there were no scheduling conflicts. To stay on top of my tasks, I also found it very helpful to block off desk time in my calendar to work on deliverables. 
Adopt a Healthy Work-life Balance
As a managed care resident, I was fortunate to have the ability to work from home and complete my remaining learning experiences remotely. This was also a double-edged sword. I had to separate my work and personal life by creating two different spaces. One space was conducive to my work environment, while the other spaces of my home were focused on my personal relationships and self-care. During work hours, it was important for me to take scheduled breaks in order to refresh my mind and give me new perspectives on the challenges at hand. 
Lastly, don't forget to take it all in. Take advantage of every opportunity to grow, be receptive to feedback, and don't doubt yourself. You got this!  
 
If you would like to support AMCP Foundation's mission to inspire the next generation to improve patient health, give today!
Originally published in the August 2020 AMCP Foundation Insights e-newsletter.