AMCP Foundation Announces Recipients of 2019 National P&T Competition
ALEXANDRIA, Va., April 3, 2019 — Four student pharmacists from the University of Washington School of Pharmacy took top honors in the Academy of Managed Care Pharmacy (AMCP) Foundation 19th Annual National Student Pharmacist Pharmacy & Therapeutics (P&T) Competition. The Competition is an annual team event that provides an immersive experience in effective formulary review and management.
Awards were presented March 28 at the AMCP Foundation Awards Ceremony, held during the AMCP Managed Care & Specialty Pharmacy Annual Meeting in San Diego, Calif. The 2019 winning teams are:
First Place: University of Washington School of Pharmacy. Team members: Erin Ichinotsubo, Hanna Kleiboeker, Eunice Kim, Michael Sporck. Advisor: Pete Fullerton.
Second Place: Rutgers Ernest Mario School of Pharmacy. Team members: Sonia Kim, Cassidy Treanor, Jessica Xiao, Eric Zhu. Advisor: Saira Jan.
Third Place: University of Southern California. Team members: Tiffany Huynh, Brian Lee, Jessica Pham, Hollie Wong. Advisors: Vinson Lee, Edward Lieskovan.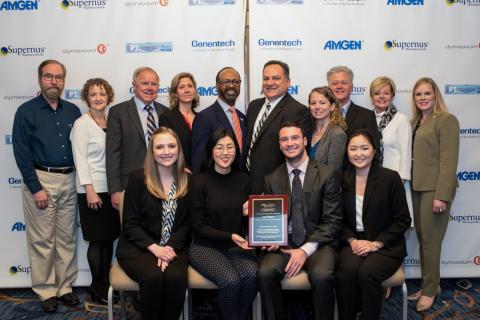 This year, a record 67 schools of pharmacy nationwide participated in the Competition. Eight national finalists advanced to the live finals, where a panel of judges simulated a P&T Committee on March 26 at the AMCP Annual Meeting. In addition to the 1st, 2nd and 3rd place teams, 2019 finalist teams hailed from Lipscomb University College of Pharmacy; University of California, San Francisco; University of Colorado Skaggs School of Pharmacy and Pharmaceutical Sciences; University of Minnesota College of Pharmacy; and University of Wisconsin-Madison School of Pharmacy.
"The effort and energy invested by all of our competitors was evident in the depth of reasoning and professionalism displayed locally and at the national finals," said Paula J. Eichenbrenner, MBA, CAE, AMCP Foundation Executive Director. "Competitors were supported in this rigorous journey by many dedicated faculty advisors, Competition coordinators, AMCP student chapter leaders, and volunteer judges."
Ten additional teams were recognized as honorable mention semifinalists. These teams represented: California Northstate College of Pharmacy; The Ohio State University; University of California at San Diego; University of Houston; University of Michigan; University of Missouri-Kansas City; University of North Carolina at Chapel Hill; University of the Pacific; University of Utah; and Western University of Health Sciences.
P&T Competition teams work through a case study using a product dossier in the AMCP Format for Formulary Submissions. Students evaluate the body of evidence on the study drug and comparators, assess value, and develop a monograph as they determine a recommendation for formulary placement and prepare an oral summary.
The study drug for the 2019 P&T Competition was TYMLOS® (abaloparatide) injection, indicated for the treatment of postmenopausal women with osteoporosis at high risk for fracture. The AMCP Foundation thanks manufacturer Radius Health, Inc., for facilitating use of this dossier and Dymaxium for hosting the Competition platform on AMCP eDossier.
The Foundation is deeply grateful to Genentech, Inc., lead sponsor, as well as Amgen, Inc. and Supernus Pharmaceuticals, for generous support of the Competition.
About the AMCP Foundation  
The Academy of Managed Care Pharmacy (AMCP) Foundation is the 501(c)3 philanthropic arm of AMCP. Established in 1990, the AMCP Foundation exists to advance collective knowledge and insights on major issues associated with the practice of pharmacy in managed health care settings. By facilitating innovative research initiatives and providing educational opportunities to learn about managed care pharmacy, the AMCP Foundation invests in the future of managed care. www.amcpfoundation.org.