AMCP Foundation Announces Recipients of 2019 National Best Poster Contests
ALEXANDRIA, Va., April 4, 2019 — The Academy of Managed Care Pharmacy (AMCP) Foundation is pleased to announce winners of its 2019 Best Poster Contests, in partnership with CVS Health. The recipients were recognized March 28 at the AMCP Foundation Awards Ceremony during the AMCP Managed Care & Specialty Pharmacy Annual Meeting in San Diego, Calif.
The 2019 awardees are:
Best Poster by a Student Pharmacist: Hillary Parkin, a PharmD Candidate at the University of Utah College of Pharmacy, for "Medication Therapy Management: Outcomes of Telephonic Pharmacist Outreach."
Best Poster by a Resident or Fellow: Hannah Lee-Brown, PharmD, Executive Fellow at Pharmacy Quality Alliance for "Interventions Impacting Medication Access: A Scoping Review."
Best Poster by a Graduate Student: Eric Borrelli, PharmD, MBA, a PhD Candidate at the University of Rhode Island College of Pharmacy, for "Medicare Part D Spending for Abiraterone and Enzalutamide in 2016."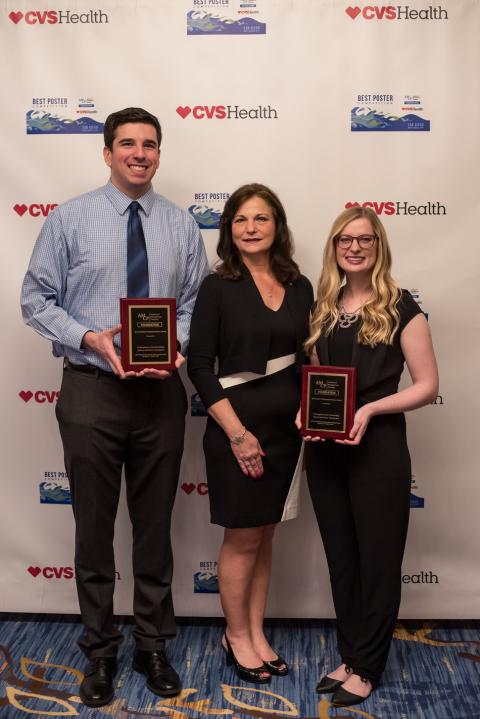 In addition, an Honorable Mention was presented to Shiyu Zhang, PhD Candidate, and Gladys Brown, PharmD Candidate, both at The University of Texas at Austin, College of Pharmacy, for "Evaluation of Progesterone (17 α-Hydroxyprogesterone Caproate) Utilization and Adherence in Women with High-risk Pregnancy Covered by Texas Medicaid."
"Fostering research into managed care pharmacy is a cornerstone of the AMCP Foundation's mission," said Paula J. Eichenbrenner, MBA, CAE, Executive Director of the AMCP Foundation. "Findings from these research posters not only will help improve the development and administration of the pharmacy benefit, but they will help enhance overall health care delivery in the U.S."
Joining Eichenbrenner in the award presentations were Mindy Messina, PharmD, Clinical Vice President, Health Plans at CVS Health; Laura E. Happe, PharmD, MPH, Editor-in-Chief at Journal of Managed Care & Specialty Pharmacy; and Susan A. Cantrell, RPh, CAE, Chief Executive Officer at AMCP.
This year's competitions drew 115 entries, which were judged on scientific merit; strength of conclusions; relevance of research to managed care pharmacy; clarity of materials; and knowledge of subject matter during the presentation. The three poster awardees recognized last week receive a $500 prize, a one-year AMCP membership and complimentary registration to the AMCP Nexus 2019 this October in National Harbor, Md.
Since 2002, the poster competitions have provided an opportunity for student pharmacists and new practitioners to demonstrate scientific expertise along with presentation, poster development and technical skills. The Foundation also periodically invites established researchers to compete for topical Best Poster Awards.
The Foundation thanks CVS Health, as well as the judges and preceptors who supported the contest.
For more information on the AMCP Foundation, please visit www.amcpfoundation.org.
About the AMCP Foundation  
The Academy of Managed Care Pharmacy (AMCP) Foundation is the 501(c)3 philanthropic arm of AMCP. Established in 1990, the AMCP Foundation exists to advance collective knowledge and insights on major issues associated with the practice of pharmacy in managed health care settings. By facilitating innovative research initiatives and providing educational opportunities to learn about managed care pharmacy, the AMCP Foundation invests in the future of managed care. www.amcpfoundation.org.