Emily Tsiao: Seek to Know Yourself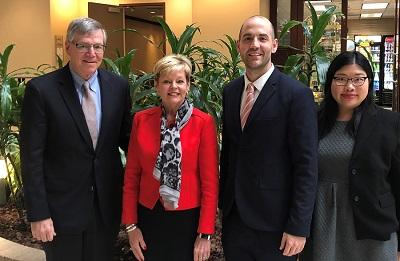 By Emily Tsiao, PharmD
The AMCP Foundation welcomed two pharmacist residents, Jared Tate, PharmD, and Emily Tsiao, PharmD, for a one-month rotation during May 2019. The rotation is a component of the Postgraduate Year One (PGY1) Managed Care Pharmacy Residency at Premera Blue Cross in Seattle.
In Part I of II of this series on Resident Perspectives, Dr. Tsiao shares her advice for new residents.
The most valuable lesson I have learned during my time as a PGY1 managed care resident is the importance of making conscious career and life decisions that feel right. As a managed care resident, I always had competing priorities and oftentimes I had the freedom to choose my work based on my interests. There are so many amazing learning opportunities available during residency. It is a balancing act to remain open to new professional experiences while still saving time to develop relevant skills. 
If I could go back to the start of my residency year and offer myself a few bits of advice, I would suggest the following:
Construct a personal mission statement that captures your values. This will help guide your decision-making during residency and as you consider the options available to you after your residency year.

Focus on developing your relationships. You will spend a large portion of your professional life with your colleagues. As a resident, you are given many opportunities to meet exceptional leaders in the profession. Make it a priority to develop productive partnerships with professionals you admire and those you work with by building on the commonality of purpose you have. Be authentic, but self-aware. Do not underestimate the value and power of teamwork.

Understand the culture of your organization. As a resident, you can reinforce a culture of continuous improvement through your eagerness to see the healthcare system change for the better.

Seek and take advantage of opportunities. As a resident, learning opportunities are constantly present and they exist everywhere. Pursuing these chances to grow is worth the investment. Honor your commitments and know your limits. Aim to bring new value to your work every day.

Stay involved in professional organizations. The guidance from mentors you meet because of your active involvement in professional organizations will inspire you to achieve your own personal and professional goals.

Follow your passion. Love what you do because you spend too many hours at work not to, but don't make it your life. 
Dr. Tsiao, who received a PharmD from the Auburn University Harrison School of Pharmacy, is conducting her residency project about "P&T Committee Management: Doing More With Less." Her areas of interest include value-based formulary management, leadership development and pipeline monitoring.