2016 Steven G. Avey Recipient
The AMCP Foundation Steven G. Avey Award was established in 2001 to recognize an AMCP member for sustained, exemplary and distinguished service to the profession of managed care pharmacy.  It is the AMCP Foundation's highest award.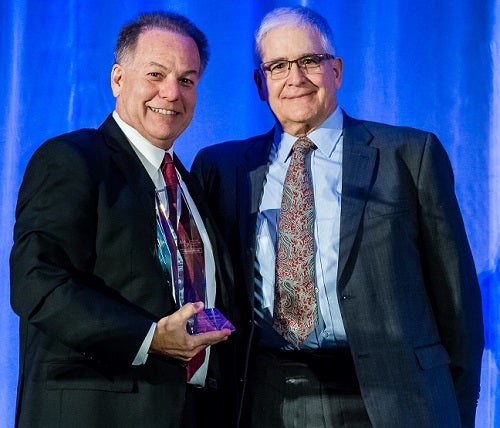 2016 Steven G. Avey Award Recipient - Anthony P. Morreale, PharmD, MBA, BCPS, FASHP 
I would like to take this opportunity to first thank the AMCP Foundation Award Selection Committee and the AMCP Past Presidents & Founders Advisory Council for honoring me with this important award. 
When I heard the wonderful news of my selection for this prestigious award I was forced to reflect on the criteria for the award and try to understand how the twists and turns in my pharmacy career has led to such recognition. As you are aware the award recognizes a healthcare professional for who has served as a visionary role model and has made significant and sustained contributions to the advancement of managed care pharmacy in clinical, research and/or administrative practice. I believe, like many of the great leaders who have been recognized before me, that I did not start my career thinking that I was visionary, nor did I think about what I would accomplish in my career.  
Today, 31 years later, I realize that ones vision and accomplishments are not an individual accomplishment but rather are a product of the interaction between your vision and that of your employer, mentors and colleagues. I first wish to recognize the opportunity that has been afforded to me by the Department of Veterans Affairs and its current and past pharmacy leadership.  The system has long supported advanced clinical pharmacy, promoted and rewarded innovation, and is continues to be a very nurturing environment for professional advancement.  Second, I must recognize the hundreds of outstanding, hard working, pharmacist I have had the pleasure to work with. My accomplishments are really a reflection of our collective accomplishments as many of them could not have been achieved without all their assistance, counsel and support.  Lastly I need to recognize my family.  To my parents, Anthony & Sara, I thank for providing me the nurturing and life skills needed to excel in todays complicated world.  To my wife Suzanne for her tremendous support and love over the past 32 years despite sometimes long hours and intense travel it required.   
Before closing I want to express my excitement about the future of clinical pharmacy. Over the past 5 years we have seen a true metamorphosis in the role of the clinical pharmacist in the VA.  Currently VA has over 3200 pharmacists working as advanced practice providers, with prescriptive privileges and direct patient care responsibilities.  The number of pharmacist practicing in this role is up over 60% from just 5 years ago as a result of a dedicated team of pharmacy leaders pushing the transition.  Although VA remains at the forefront of clinical pharmacy practice, I am encouraged by what I see happening with expanding state practice acts and the move to provider status for pharmacists at both the state and federal level. These changes will significantly contribute to the transformation of pharmacy to a true clinical profession as envisioned by our previous pharmacy leaders, many of which you have previously honored with the Avey award. I hope all pharmacy leaders will join me in accelerating that transition to solidify the important impacts that clinical pharmacists can make in direct patient care.  
I again want to thank AMCP Foundation for this tremendous honor.