From Paula's Desk: Examining Health Disparities from the Patient Perspective
Originally published in August 2022 AMCP Foundation Insights e-newsletter.  
Dear #AMCPFdn Friends,   
AMCP Foundation remains committed to supporting AMCP's strategic priority on addressing health disparities, so that outcomes for patients, families and communities are improved. I'm so proud of our partnership on this summer's AMCP Virtual Summit on Health Disparities. Our AMCP Foundation session, Health Disparities from the Patient Perspective, was an important contribution to emphasize patient voices now – and for the next generation of managed care pharmacists.  
Attendees heard from three powerful speakers:  
John M. Allen, PharmD, BCPS, BCCCP, FCCM, FCCP, associate dean for diversity, inclusion, & health equity and clinical associate professor at the University of Florida College of Pharmacy.  
Kevin Wake, MS, CHW, president of the Uriel E. Owens Sickle Cell Disease Association of the Midwest .  
Hala Durrah, MTA, a patient family engagement consultant, nationally recognized advocate, and doctor of education student at Johns Hopkins University School of Education.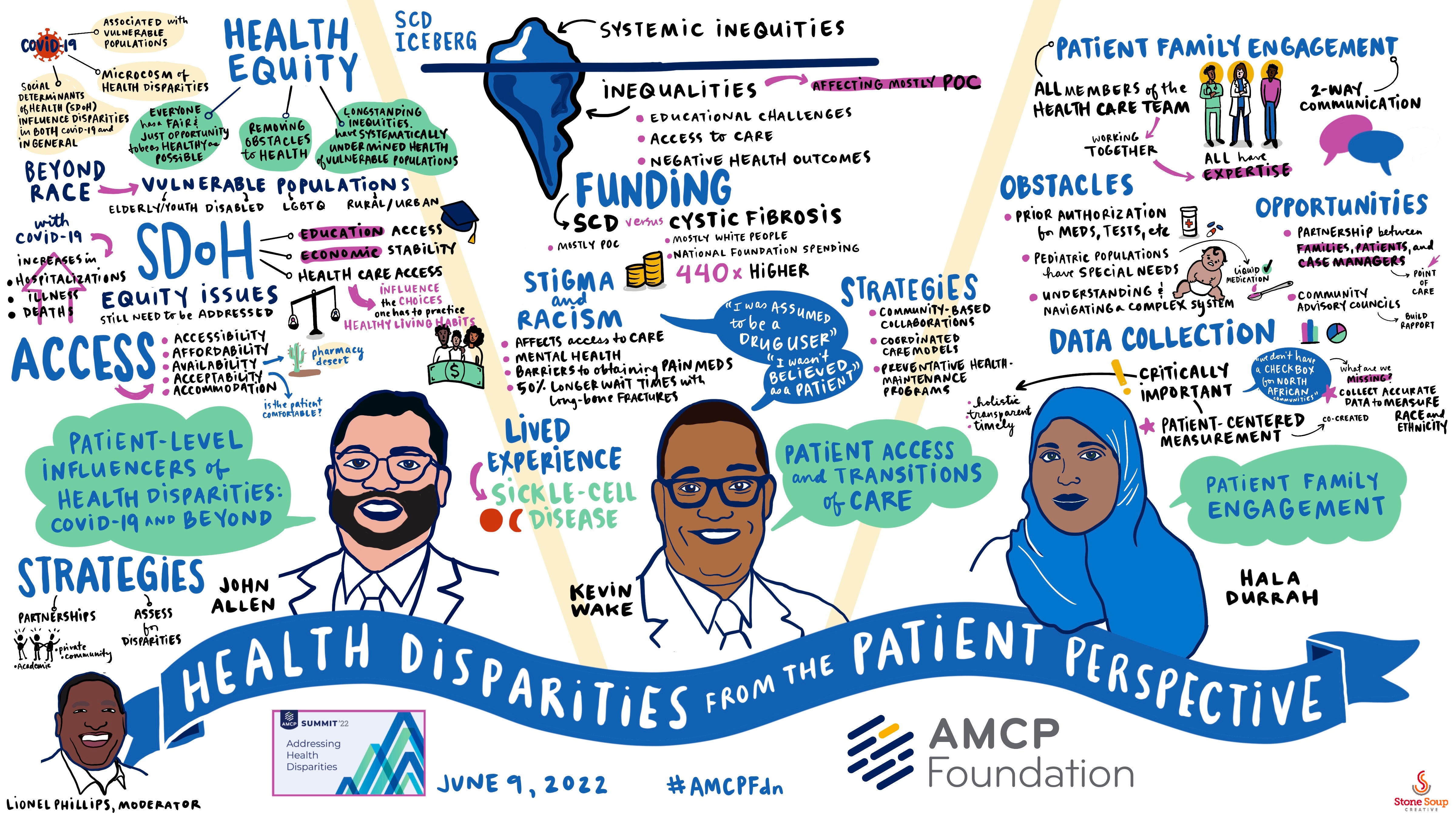 ---
This sketchnote visually captures the key takeaways from the AMCP Summit.
Digging Into the Data 
Allen started by asking attendees to "begin with the end in mind." He went on to explain how COVID-19 — and its disproportionate burden on vulnerable populations — exposed longstanding inequities that have systematically undermined the health of those vulnerable populations. 
Interestingly, Allen pointed out that income is "not the great equalizer." While higher income is associated with higher levels of health, it's not the only factor. Instead, "education and income have the ability to influence the choices that one has to practice healthy living habits." The full spectrum of social determinants of health should be considered.  
To successfully address health disparities, Allen urged partnerships between private, academic, and community entities. He also stressed the importance of assessing disparities in utilization patterns. In conclusion, he said: "Change is hard, but the juice is worth the squeeze." 
Powerful Perspectives 
Wake began by sharing his moving personal story of not only having sickle cell disease himself, but also having an older brother who passed away undiagnosed with the disease and a younger brother with sickle cell disease. "As a black male, in my early 30s [while pursuing health care], I was often labeled a 'drug seeker,' or thought to be experiencing a drug overdose or drunkenness."  
Comparing health care disparities to an iceberg, Wake described the 'tip' of visible inequalities. He also discussed the 'below the surface' dynamics of educational, access-to-care, and transition-of-care challenges. The shamefully low historic funding levels of sickle cell disease research are but one example. In addition, in patients with sickle cell disease, stigma and racism have been shown to negatively impact treatment, psychological health, and disease outcomes.   
Wake shared strategies to improve health outcomes, which included establishing coordinated care models and reviewing formulary restrictions and exclusion policies. 
Patient Family Engagement 
Also from her personal experience, Durrah shared her ideas as a mother of a child who has "been in the health care system" for almost 20 years. She talked about common managed care obstacles to patient family engagement, including prior authorization for medications, testing, and access to specialists; special challenges for pediatric populations, especially for children with special health care needs. 
"Patients and families struggle with what's covered, and what's not covered," she said. "It's a very complex system, and asking questions is always a challenge."  
Durrah points to opportunities in managed care, and she suggests point-of-care partnership between patients, families, and case managers as well as advisory councils for managed care plans. In addition, she recommends greater efforts related to community outreach and partnership with community health workers.  
Going further, Durrah advises improved data collection and patient-centered measurement, which involves "partnering with patients in a meaningful way to decide what we measure, how we measure it, and how we report and use the results of measurement." 
Reflecting – And Doing More to Center Our Work on Patients 
Check out AMCP Foundation's archived session, Patient Perspectives on Health Disparities, in AMCP Learn. Or, take a moment to reflect on the powerful sketchnote that visually captures our session takeaways. Let me know what you think! AMCP Foundation is interested in further elevating patient voices within managed care, and I'd love to hear your ideas.  
Gratefully and hopefully,   
Paula J. Eichenbrenner, MBA, CAE       
Executive Director, AMCP Foundation 
P.S. AMCP Foundation is piloting a themed internship focused on health disparities. Learn more about this exciting program!