AMCP Foundation Elects New Officers, Installs 2023-24 Board
This spring, AMCP Foundation elected new officers who will serve two-year terms and lead our 2023-24 Board. The Board also features three new trustees who were confirmed following AMCP's annual meeting.   
President: Annesha White, PharmD, MS, PhD, Senior Associate Dean for Assessment, Accreditation & Faculty Success, and Associate Professor, University of North Texas Health Science Center College of Pharmacy
Vice President: Alan J. Arville, Esq., Member, Epstein Becker Green
Treasurer: Summerpal Kahlon, MD, Vice President, Value Analytics, Change Healthcare/Optum 
New President Annesha White has served on the AMCP Foundation Board for several years, bringing deep experience across academia as well as a commitment to operational excellence. "I'm looking forward to extending AMCP Foundation's impact as we support leaders, educators, and researchers in managed care," she said. "I am honored to apply my passion for patient care and innovation to leading the Board of Trustees as we collectively build on the exemplary work that has already been accomplished."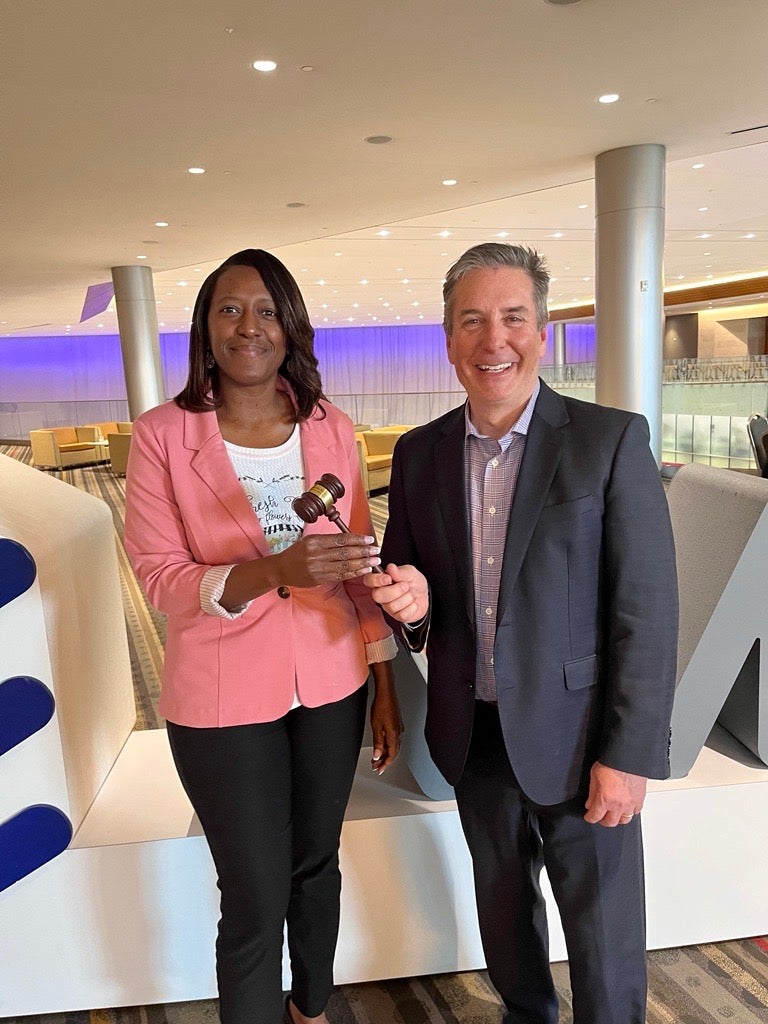 Dr. White's research areas of focus include Medicare, Patient Safety, Managed Care, Pharmacoeconomics, and Outcomes Research. She has worked on funded projects with the Florida Medicaid program, including studies on COX-2 Inhibitors, Hepatitis C, and End Stage Renal Disease. She also worked at the Government Accountability Office to examine Pharmacy Benefit Managers and their impact on Health Plans, Enrollees, and Pharmacies. Annesha currently works at the University of North Texas Health Science Center College of Pharmacy, teaching various courses such as the Economic Evaluation and Policy course, which is an integral component of a certificate program in Applied Health Outcomes Research. Dr. White graduated with a PharmD and MS degree (pharmacoeconomic focus) from Florida A&M University and then obtained a PhD in Health Services Research from the College of Public Health & Health Professions at the University of Florida.
Three new trustees have also been selected to join AMCP Foundation's volunteer leadership.
Michael Manolakis, PharmD, PhD, Vice President Pharmacy Consulting, Aon
Josephine Nhu Tran, PharmD, MS, Vice President, Part D Product, Analytics, & Innovation, United Healthcare 
Elaine Yu, PharmD, MS, Head of Evidence for Access BioOncology, US Medical Affairs, Genentech
The new Officers and Trustees are joined on the 2023-24 Board by four continuing Board members.  
Past President Matthew W. Hurlburt, MHA, Head, Global Healthcare Innovation Center, Pfizer
Mona Chitre, PharmD, Trustee and President Pharmacy Solutions & Chief Pharmacy Officer, Excellus BCBS
Paula J. Eichenbrenner, MBA, CAE, Secretary, and AMCP Foundation Executive Director
Susan A. Cantrell, MHL, RPh, CAE, Chair and AMCP CEO.

As we congratulate our newly elected leaders, we thank Past President and Trustee Allan J. Chernov, MD, who retired from the Board after many years and distinguished contributions in service of our mission.  
Learn more about the 2023-24 AMCP Foundation Board of Trustees.