Trustee Spotlight: Susan A. Cantrell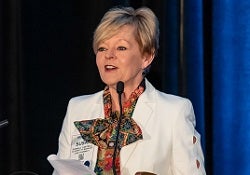 The AMCP Foundation is fortunate to have a strong group of thought leaders on our Board. In this issue we spotlight Foundation Chair Susan A. Cantrell, RPh, CAE, CEO of AMCP.
How long have you been at AMCP?
I was honored to take on the leadership of AMCP and the Foundation in 2016 after working in various positions at the Drug Information Association and American Society of Health‐System Pharmacists. It's been a remarkable four years, and both AMCP and the Foundation have grown in leaps and bounds. I'm very proud of what we have accomplished.
What do you like most about your work?
Every day is different, and the work is dynamic and challenging. Our organizations are on the front lines of change in health care today, particularly around issues of access and affordability of medications. Knowing that we are helping to advance not only the profession of pharmacy, but really the entire U.S. health care system is extremely gratifying. It's also a pleasure working with our talented staff at the Alexandria, Va., headquarters, as well as a dedicated group of AMCP and Foundation member volunteers across the country. I am always impressed and energized by the ideas and creativity of the professionals in our field.
What do you find most challenging about supporting the AMCP Foundation?
The Foundation relies on the generous support of donors and sponsors to develop and execute its research and student pharmacist programming. We are fortunate to have stakeholders who understand the value of the Foundation and its mission. This can be seen in the sponsorships of our annual symposium and summer internships, and even the large number of people who donate to the Foundation's sock collection at our meetings. The challenge is always finding ways to increase awareness of our work, and encouraging our members and stakeholders to further support the growth of the organization.
What do you wish other people knew about the AMCP Foundation?
One thing that continually impresses me about the Foundation is its role in generating important, original research. The Foundation's Trends in Healthcare reports have illuminated a host of emerging factors that are disrupting the practice of pharmacy and health care. And the annual symposiums bring together diverse stakeholders on specific topics, including recently on oncology; value-based care; access and use of opioid therapies; and opportunities and challenges in patient care, prevention, and adherence. After each symposium, the Foundation publishes a proceedings document that complies the wealth of interesting and relevant findings that have a direct application to improving care. I always encourage my peers across the health care spectrum to look at our research.
Another remarkable thing about the Foundation is its work in grooming the next generation of managed care pharmacy professionals and leaders. The summer internship programs have been taking place for 20 years and the P&T competition and best poster competitions offer the perfect proving ground for rising talent. Many of these young people are now among AMCP's volunteer leadership.
What is your hope for the AMCP Foundation in the future?
Managed care pharmacy plays a crucial role in the overall health care system, yet sometimes our practices are misunderstood. We have a continual need for strong research that demonstrates how we make a difference in helping patients get the medications they need at a cost they can afford. My hope for the Foundation's future is to continue engaging in cutting edge research that demonstrates the value of managed care pharmacy, and gains notice from even more stakeholders in the system.

Originally published in the Feb. 2020 AMCP Foundation Insights e-newsletter.