Trustee Spotlight: Mona Chitre, PharmD
Originally published in the October 2020 AMCP Foundation Insights e-newsletter.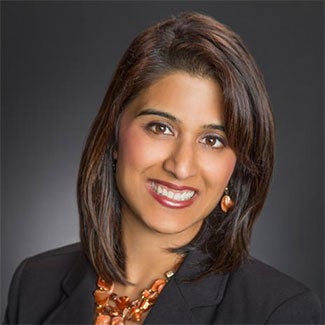 Tell us about your role at Excellus BlueCross BlueShield.  
I just celebrated my 20-year anniversary with Excellus BlueCross BlueShield. I've held multiple positions during that time, starting from drug information specialist to chief pharmacy officer. I've been in the chief pharmacy officer role for more than 10 years and I've taken on additional responsibilities including wellness, telemedicine, payment integrity, and corporate medical policy. I honestly never would have imagined how my career would progress beyond the traditional roles of pharmacy.  
What do you like most about your work? 
I love solving the challenges of delivering high-quality and affordable care for the members in the communities we serve. There is never a dull moment. You are at the forefront of cutting-edge science on issues related to gene therapy and biosimilars. You work with a diverse group of incredibly smart and dedicated professionals in the clinical, finance, and sales segments of the plan. You collaborate with regional and national thought leaders. All of this work impacts families here in our community.   
How did you first get involved with AMCP?   
I became involved in AMCP shortly after starting my career in managed care. I wanted to network with professionals in similar roles, or professionals from different industries trying to solve the same health care challenges. I quickly found AMCP was also a great way to find mentorship and professional development from the various conferences and educational content.  
Why did the invitation to serve on the AMCP Foundation Board appeal to you? 
My immediate response to the invite was YES!  What an honor and privilege to serve on the AMCP Foundation Board for a mission that I am so passionate about. It's also extremely rewarding to give back to the community that supported me through my career.  The Foundation's focus to "Develop Leaders and Enhance Health"  is especially important. The health care challenges we face are so complex that we must nurture and support the next generation of health care leaders to solve them.  
Of the many projects that AMCP Foundation is working on, what is most exciting to you? 
I just participated in my first Board meeting last month so I am very eager to continue to learn about AMCP Foundation's agenda and priorities. What makes me most excited is the research that showcases the value that managed care pharmacists bring to all aspects of health care. There is so much that health plan pharmacists do to contribute to access, affordability, and quality and I am passionate about bringing this perspective to the forefront of health care. 
What do you wish other people knew about AMCP Foundation? 
I wish more people were aware of the mission and vision of AMCP Foundation as well as the tools, resources, publications and support Foundation offers to our profession behind the scenes. It is more than the philanthropic arm of AMCP.  AMCP Foundation truly supports and advances the profession in many ways. 
Support managed care research and the cultivation of tomorrow's leaders by making a gift today!