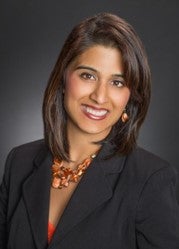 Mona Chitre
Trustee
Dr. Chitre is the Chief Pharmacy Officer and VP of Clinical Strategy, and Innovation. Her responsibilities include the oversight of Pharmacy, Wellness, Telemedicine, Medical Program and Policy development and Payment Integrity programs at the health plan. She leads strategies that drive affordability, innovation, and access to care for all members across Commercial, Safety Net, and Medicare lines of business. This includes managing over $6 billion in drug and medical expense, assurance of operational excellence and compliance, and strategy and execution leadership for trend management and appropriate use programs.
Dr. Chitre is also an assistant clinical professor at the St. John Fisher Wegmans School of Pharmacy. She has published over 30 articles and serves on the editorial board for two industry journals. In 2013, the Rochester Business Journal recognized Dr. Chitre as a "Forty Under 40" honoree. She has also been recognized as a 2014 "Woman to Watch" by the Diversity Journal and was most recently recognized as a 2019 "Woman of Excellence" by the Rochester Business Journal.
Dr. Chitre completed her undergraduate and graduate training at Rutgers University and her post-doctoral primary care residency at the VA Hospital in Buffalo, NY. She is a registered pharmacist in both New York and New Jersey. She also has received a certification in geriatric pharmacy from the Commission for the Certification in Geriatric Pharmacy and is a Fellow of the America's Health Insurance Plans (AHIP) Executive Leadership Program.
Dr. Chitre was most recently appointed to the Civica Rx Outpatient Subsidiary Board where she will help drive the strategy for lowering the cost of medications. She also serves on the Board of Directors at United Way of Greater Rochester, and on the Women's Leadership Council at Excellus BCBS. She is a past board member of the NY State Board of Pharmacy, where she helped set direction for the pharmacy profession in New York State. She also previously served on boards of Ronald McDonald House, Seniors First Communities and Services, and Uprising.
Dr. Chitre and her husband Amit reside in Victor, NY, and have three boys, Rohan, Raj and Ravi.