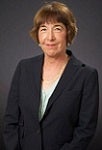 Mary C. Young
Trustee 
Mary has more than 25 years of experience advising Fortune 100 clients and large public sector entities about their health care strategies both in and outside the United States.  
Her current responsibilities at Cigna include working with Cigna's largest clients to ensure Cigna is delivering services to meet client expectations; develop strategies to continue to effectively manage clients' health and benefits programs, and to collaborate with internal stakeholders to ensure Cigna evolves its product portfolio to meet future client needs.  
In addition to her current experience, Mary served as a global client manager at Cigna where she supported teams throughout the world to develop and deliver relevant local health care and disability solutions to meet clients' needs. In her other role as Cigna's global health and wellness director, she collaborated with employers to develop relevant global wellness solutions for large multinational employers.
Prior to joining Cigna, Mary served as a consultant for a large health and benefits consulting firm. She developed health care strategies and directed relevant vendor searches to deliver the strategies to Fortune 100 and large public sector clients.  She has broad industry experience including entertainment, aerospace, hospitality, public sector, and employer coalitions.
Mary holds a Bachelor of Science degree from Pennsylvania State University, a Master of Health Planning and Administration degree from the University of Michigan, and is a Certified Employee Benefit Specialist (CEBS).